With water levels returning to normal, Summer is about to kick-off at one of Central Ohio's favorite lakes. Buckeye Lake hasn't always been the serene, 3,000-acre lake that it is today. What started as a swamp land called Buffalo Lick has grown into a popular boating destination in Central Ohio.
Buckeye Lake's transformation from a swamp to reservoir started with the building of canals in the 1800s. After the decline of the Erie and Ohio Canals, the reservoir was officially called Buckeye Lake, and in 1894 it was named a public park.
The lake even had its own amusement park, which remained open until the 1970s. In the height of its popularity, the park attracted nearly 50,000 visitors per day, and performers such as Bob Hope, Guy Lombardo, Count Basie, Glen Miller, Benny Goodman, Louis Armstrong, and Duke Ellington. Although much of the amusement park has been torn down, the local community hasn't forgotten it.
Today, Buckeye Lake is a mix of vacation rentals and full-time residents, giving people a chance to escape the hustle of the city with a quiet, small town vibe. The lake is also dotted with small islands, most of which hold private residences, while others are open to the public. There are 21 islands on the lake and 18 of them with homes.
From restaurants to boat rentals to community activities, Buckeye Lake has a lot to offer visitors. One of the biggest celebrations of the year takes place on the 4th of July. The Boat Parade is one of the highlights of the holiday, with floats from across the lake participating in the celebration.
Food
Weldon's Ice Cream Factory was founded on November 1, 1930, and it's been a staple of the Buckeye Lake Community ever since. With dozens of flavors and welcoming employees, Weldon's is a must-do stop for all visitors to Buckeye Lake.
Although the Pizza Cottage got its start in Carroll, Ohio, The Buckeye Lake Pizza Cottage has been one of its most successful locations. Although it's now under new management, the Pizza Cottage retains its small town charm, and of course, its delicious menu.
Whether you arrive in a car or on a boat, a unique experience is waitng for you at Buckeye Lake Winery. Aiming to bring Napa Valley to Central Ohio, the winery opened in 2013. In addition to world class wines, they also have a menu that will suprpise and delight customers.
Buckeye Lake Brewery opened in 2012, bringing craft beer to the lake. The brewery produces a variety of different beers, with favorites being Shovelhead 2xIPA, Hennosy's Irish Red, "Bang and Go Back", and Legend Valley IPA.
Our Lakeside Diner
Our Lakeside Diner is a quintessential Buckeye Lake experience. A casual, neighborhood joint, serving breakfast and lunch, the diner has been a staple in the community for decades.
The Laid Back Saloon is the perfect place to grab a drink with friends. It has a fun a lively atmosphere, with live music every weekend. If you're planning on driving your motorcycle out to the lake, be sure to check out bike nights at the Laid Back Saloon!
Although the Buckeye Lake Yacht Club is not open to the public, you don't have to be a resident at the lake to become a member. The Club has many amenities, including a pool, clubhouse, sailing teams and racing teams. Several events are held throughout the year, one of the most popular being the Antique Wooden Boat Show.
Park your boat (or your car) and head into Papa Boo's. The beach bar vibe makes it the perfect place to grab a drink or a bite to eat. The bar is family friendly and open to all visitors and residents at Buckeye Lake.
President Eisenhower once said, "Some people wanted champagne and caviar when they should have had beer and hot dogs". We couldn't agree more. Hometown Hotdogs doesn't just serve hotdogs, they've got fresh-cut fries and burgers as well, but their hotdogs are what people show up for. With a variety of toppings availalbe, there is guaranteed to be the perfect dog for every customer.
Craving Asian cuisine after a day on the water? Thai Paradise has you covered. Serving both Chinese and Thai food, Thai Paradise opened in 2008.
Beachcomber is the perfect place to catch some live music at Buckeye Lake. The bar hosts open mic nights as well as concerts, giving locals and visitors a chance to show off their musical abilities.
Boating, Equipment, And Rentals
Due to water levels, not all marinas are offering rentals this season. For more information, please contact each location before your trip, to be sure that rentals and docking are available.
Lodging
The KOA at Buckeye Lake has a variety of amenities and activities that will please even the most well-seasoned campers. Activities include crafts, fire truck rides on our vintage fire truck, ice cream socials, breakfast on Saturday & Sunday mornings, and music & dancing on selected weekends. The KOA is just a short walk from the lake, and organized swimming and boating activities are available.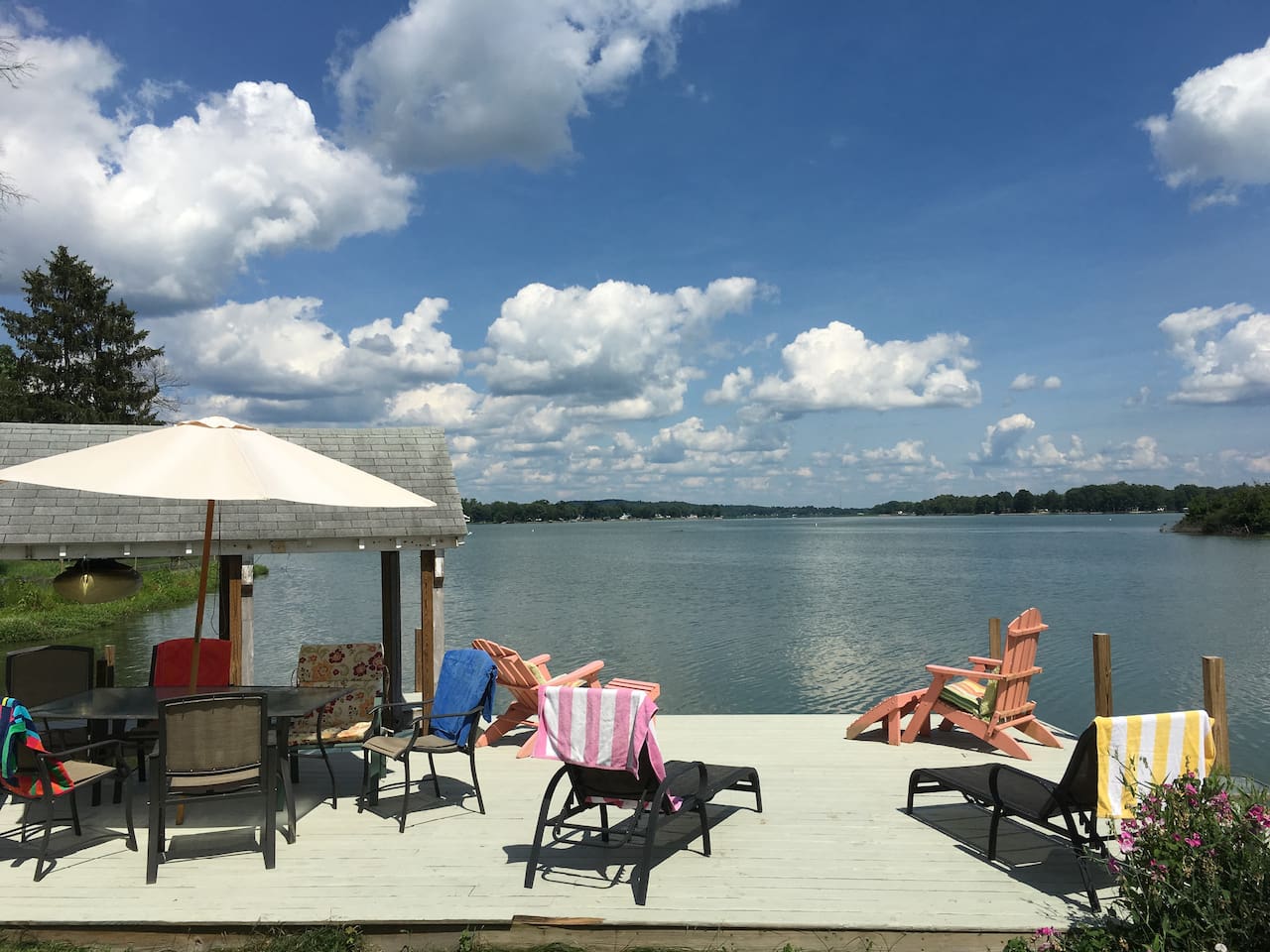 Airbnb offers plenty of properties around the lake that are availble for rent. The properties vary in size and location and the variety of options can accomdate everything from young couples to large families.
Things To Do
Buckeye Lake Place is a beloved boutique located on the southwest side of the lake. The shop offers plenty of nautical gifts and decor, as well as vintage goods. Whether you are a visitor shopping for souvenirs, or a homeowner looking to spruce up your lake house, Buckeye Lake Place is a shop you won't want to miss!
A short drive from the lake, Dawes Arboretum is 2,000 acres and includes eight miles of hiking trails and 17,000 plants. If you'd like to spend a day on dry land, Dawes is fun for all ages.
Water slides are bound to make every member of your family happy! If you are looking for fun off the lake, Heath City Water Park is close by and ready to entertain the masses. Float around the lazy river, go down the 30 foot speed slide, or let your kids have fun in the interactive area.
If you want to learn more about Buckeye Lake, you should make time to visit the Buckeye Lake Historical Museum. The Museum has tons of equipiment and photographs from the Amusement Park era. You can even visit the Rocket Ride or play Skee Ball.
Spend the afternoon on the green at Harbor Hills Country Club. The 9-hole golf course is semi-private and tee times are availble online.
Buckeye Lake State Park is a great place to have a cookout and just relax. There are several picnic areas, including 3 large shelters that are reservable. Fishing, boating, and waterfowl hunting are all allowed at the park. The beaches have been closed since 2015, but they could re-open this summer with water levels on the rise.