So you're a massive fan of Game of Thrones and you want to watch the latest episode with all your equally obsessed friends? Good. Because the internet is dark and full of ideas for the perfect GoT inspired party.
When it comes to the ingredients for these feasts, be sure to shop locally. The Hills Market is a great place to grab Ohio beef or lamb, as well as Ohio grown produce. For desserts, bread, and cheeses, you need to go to Weiland's Market. If you haven't had it, Ohio cheese is the real deal, and you'll want to eat it as much as The Hound wants to eat all the chickens.
For booze, we recommend beers from local breweries such as Wolf's Ridge Brewing and Land Grant. For cocktails, grab some OYO spirits. For some real authenticity at your GoT party, give your guests some mead, preferably from Brothers Drake Meadery.
Now that you know where to get supplies, let's get down to business.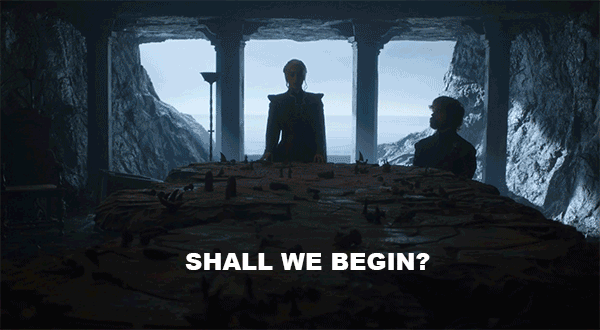 Food fit for a King, or Queen, or Khaleesi, or whatever you'd like to call yourself.
Red Wine Dragon Ribs
Frey Pie
Deviled Dragon Eggs
Onion Knight Dip
You Know Muffin, Jon Snow
House Bolton Flayed Hot Dogs
Cocktails that will help you forget that your favorite characters are all dead
Valar MorGuinness
The Imp
Milk of the Dragon
Decor that you'll need a small army to help DIY
"Hold the Door" Doormats (Even though it's still too soon–RIP Hodor)
Iron-ish Throne
Decorative & Delicious Dragon Eggs
Etched Wine Glasses (Maybe don't DIY this one)
Chalkboard Sign with your favorite catch-phrase
More Cocktails
The White Walker
The Red Woman
Desserts so sweet they'd turn Joffrey into a decent person (Just kidding he'll always be terrible)
Cupcakes
Sansa's Lemon Cakes
Ned's Head on a Stick Cake Pops
If you aren't one of the lucky ones who either has someone else's login for HBO or gets invited to super rad home viewing parties, you don't have to miss out.
Every week, R Bar is hosting a viewing party for those "watchers on the wall" over 21. Wolfs Ridge Brewing and Makers Mark are partners, and there are also raffle prizes. It will be the perfect opportunity to show off your inner-Tyrion Lannister.
For more information, click here.