Sinclair Broadcasting runs three stations in Columbus.
WTTE Fox 28, WWHO The CW, and WSYX ABC 6. Although they only own ABC 6 outright, the broadcasting conglomerate operates Fox 28 and The CW through local marketing and shared service agreements. Which means all three stations could be subjected to right wing required programming.
Boris Epshteyn is the Senior Political Analyst for Sinclair Broadcasting Group and former advisor to Donald Trump's presidential campaign. Epshteyn was born in Moscow, in the Soviet Union in 1982. His family immigrated to New Jersey in 1993.
After graduating from Georgetown University with a law degree, Epshteyn worked at a law firm before taking his first job politics, working as a communication aid for the McCain/Palin campaign in 2008. After President Obama won the 2008 election, Epshteyn returned to the private sector, working for investment banking firms.
In 2013, he moderated a panel at "Invest in Moscow". The panel at the event was made up of several Moscow city government officials, including Sergey Cheremin, a Moscow city minister who runs the foreign economic and international relations department.
Throughout Donald Trump's presidential campaign, Epshteyn was frequently on the news, voicing then Candidate Trump's opinions on a variety of issues. In spite of his deep ties to Russia and his involvement with the Trump campaign, Epshteyn will now have the opportunity to catch the ear of a majority of American households.
Sinclair Broadcasting Group, of which Epshteyn is now a key player, is currently attempting to purchase Tribune Media, giving them the ability to reach roughly 70% of the American population. On the heels of the Tribune purchase, it was announced yesterday that Sinclair will boost required airings of "The Bottom Line with Boris Epshteyn" from just three segments per week, to nine segments.
The segments, which typically last 2-3 minutes, take on national issues from a perspective that is anything but non-partisan. In an interview with Bill Maher in May, Epshteyn stated that the segments are not biased.
"Sinclair is not a cable channel. Sinclair is a group that owns stations and it's provider of content– content that is straight down the middle," said Epshteyn.
But a quick look through Epshteyn's Youtube channel negates that claim. Even in his defense against HBO late night host John Oliver's recent episode, Epshteyn leaves out important information for viewers.
In the clip above, Epshteyn shows a clip of John Oliver describing Sinclair's "Terrorism Alert Desk" segment as nonsense. Epshteyn then stops the clip, going on to describe several terror attacks around the world in recent months, ridiculining Oliver's claim.
However, the full clip that John Oliver shows, is a "Terrorism Alert Desk" segment that starts with an unverified terrorist attack and ends with a report about French towns and burkini bans. As Oliver points out, "That is not about terrorism. It's just about Muslims." (Start at minute 14:48)
Propaganda is defined as "information, especially of a biased or misleading nature, used to promote or publicize a particular political cause or point of view." Epshteyn's segments are often a textbook definition of propaganda. By cutting clips, limiting information, and presenting stories in a way that publicizes President Trump's views, "Bottom Line with Boris" is propgating misinformation under the guise of factual news.
Although many national news sources have been accused of being "fake news", viewers tend to trust their local news more than larger media sources. Epshteyn and Sinclair Broadcasting have no doubt noticed that trend, and decided it's time to influence the news at a local level.
On the local level, this means that regular viewers of at least ABC 6 will be subjected to Epshteyn's segments. Currently on ABC 6's website, an opinion piece by Epshteyn about the need for states to comply with President Trump about voter data can be found.
In the article, Epshteyn states that "fair and free elections are absolutely key to our democracy". While the rest of the world is discussing the extent to which Russia meddled with the 2016 election, Epshteyn and the White House are peddling the outrageous and untruthful narrative that widespread voter fraud kept the president from winning the popular vote.
In an effort to substantiate his lies, Epshteyn includes a poll he conducted on his own Twitter account, showing that 66% of voters are "very concerned" about voter fraud. Only 528 Twitter users participated in the poll, which has no way of verifying the accounts participating in the poll.
How concerned are you about voter fraud (including intentional improper voter registration) in our country?

— Boris Epshteyn (@BorisEP) July 5, 2017
So how can viewers who trust their local news continue to do so? It starts with viewers staying informed. Internet resources like Politifact are an invaluable asset in our current times. They offer unbiased fact-checking and can give audiences the opportunity to explore Epshteyn's claims for themselves.
The problem with Sinclair's strategy to infiltrate local news is simple. It's a dying industry. Young citizens, even right-wing constiuents, are tuning into televised news at a declining rate. According to the Pew Research Center, just 27% of people aged 18-29 get their news from television. That percentage dramatically increases with age, topping out with 85% of viewers in the 65+ category.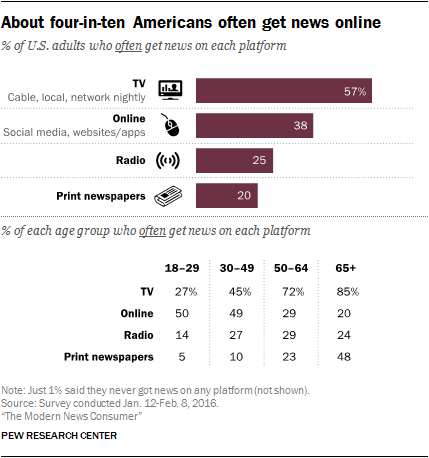 So while the trend of propaganda on our local news sets is alarming in the here and now, in the future, it's not likely to matter. The news industry has been transitioning to an internet-based media for years now, and that's not going to change.
This stunt from Sinclair is nothing more than a desperate grab for relevancy in a time where people are paying less and less attention to local television news.